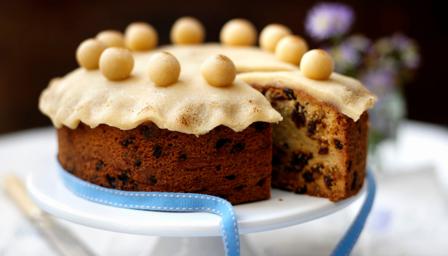 When is Mother's Day? Depending on where you live, the answer may be surprising. While more than 80 countries around the world celebrate Mother's Day in some form, the customs vary from country to country. Here's a selection of celebrations that we know our own moms would love, paired with gift ideas inspired by these wonderful local traditions.
United Kingdom
Mothering Sunday takes place on the fourth Sunday of Lent and was traditionally a day when children were given a day off from work to visit their mother and family. Simnel cake, a fruit cake with two layers of almond paste and 11 marzipan balls, is a classic dessert for the holiday (as well as Easter in general). (BBC)
Gift Idea: Remember when Mom used to make the best cookies in the world for you? Return the favor and treat her to a homemade dessert and a trip down memory lane.
Japan
Celebrated on May 12, Mother's Day (haha no hi) in Japan was introduced after World War II. Picking up a bouquet of flowers for Mom? Make sure they're carnations––symbolizing sweetness and endurance––and the customary flower for this day. (Scholastic)
Gift Idea: Does your mother love flowers? Pair her favorite flowers with a perfume that has matching floral notes.
Mexico
Día de las Madres (May 10) is an especially important holiday in Mexico. Rooted in strong family bonds and commemorated with large, extended family gatherings over a special lunch, it's estimated that 200,000 extra waiters work on this busy holiday. (WashingtonPost)
Gift Idea: Can't travel to Mom to celebrate this year? Don't forget our Logitech TV Cam HD can help you connect with the people that matter most with a wide-angle HD to get the whole family (including the dog!) in the video call.
What traditions do you love to celebrate with your mom?